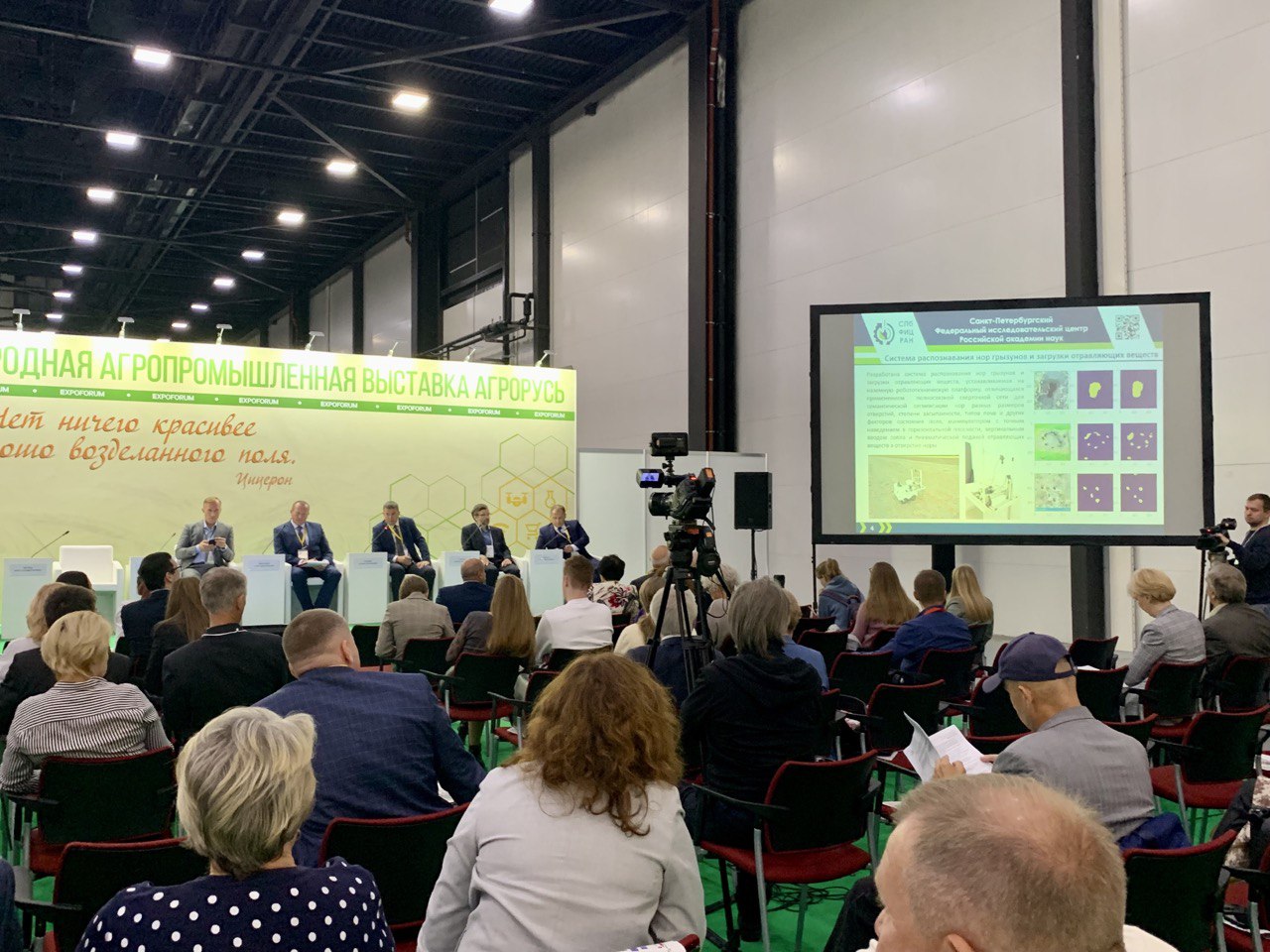 From August 31 - September 03, 2022, the 31st International agro-industrial exhibition AGRORUS-2022 was held at the premises of the convention and exhibition center EXPOFORUM and aimed at developing the agro-industrial infrastructure and ensuring food security of the North-West Federal District, as well as at expanding the interregional cooperation of the Russian Federation subjects.
Andrey Leonidovich Ronzhin, Director of SPC RAS, was engaged in the plenary session "Modern scientific approaches to the development of agriculture in Russia" as a speaker, and delivered his presentation entitled "Examples of the intellectualization of agricultural technologies and equipment":
"The AGRORUS exhibition so far has become an annual reporting event SPC RAS, specializing in interdisciplinary research, including the one in digital transformation of agroecological production. Over the past year, scientists of SPC RAS have created and tested the unique ground and aerial robotic tools with special purpose attachments for plant processing and rodent control in the open ground, as well as automation tools to control vertical farms' equipment. A system of automatic recognition and counting the reindeer population on aerial photographs with a heterogeneous background of a typical tundra landscape has been developed. Intelligent technical means of sampling bottom soil and combating cyanobacterial blooming in freshwater reservoirs have been developed and put into practice."
Within a thematic exposition, staff members of the Laboratory of Autonomous Robotic Systems (SPIIRAS - SPC RAS) have demonstrated the unmanned aircraft GD-4 at the collective stand of the Ministry of Education and Science. The payload installed aboard is applicable to solving problems in inspection of territories and infrastructure facilities, wind power, healthcare and agriculture. The vessel design ensures its rapid transportation and preparation for the mission due to the double-folding beams of the frame, reducing its dimensions.